In all corners of the world you can find a variety of exotic hotels. Travel companies are trying to distinguish themselves
by any means, inventing a variety of recreational areas and entertainment for tourists. In Thailand, an unusual bubble hotel has opened in the Elephant Sanctuary.
The hotel immediately attracted the attention of reporters and tourists. The hotel is completely transparent capsules, which are called bubbles.
The rooms are made of durable polyethylene and can withstand extreme heat and humidity.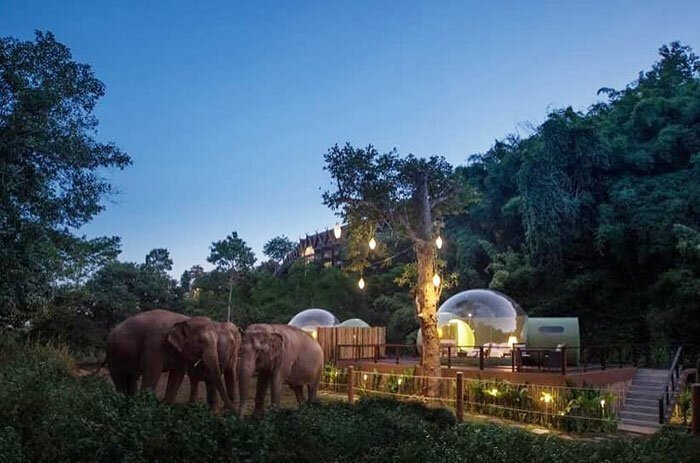 The reserve is located in the jungle, where elephants live, who were found injured or lost in the city. The rooms are small, only 22 square meters,
but they have all the amenities. The sleeping area is located under an opaque dome, where a double bed is placed.
You also have a sofa, a small table and a bathroom in the capsule. It is not necessary to go to the restaurant, the food is brought to the room.
Now you can not only watch elephants, but literally sleep next to them.
You can book a night in the bubble only in addition to a room in the hotel itself.
Guests are picked up from the hotel lobby before sunset and taken to the transparent domes through the jungle and rice field.
A picnic basket with snacks is brought to guests on site. Feeding or touching the elephants is prohibited.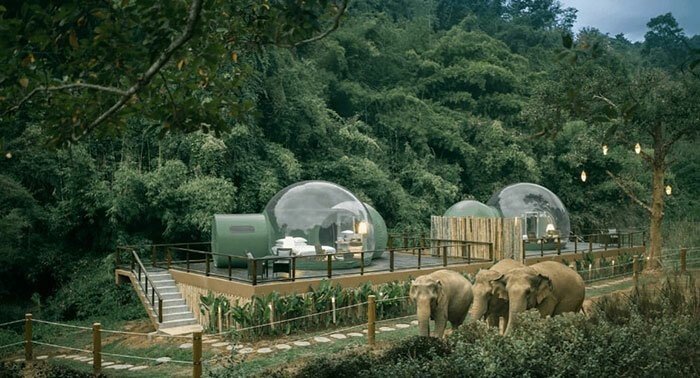 Domes are equipped with air conditioners and heaters. According to the owner of the hotel, all elephants should be free and live in natural conditions,
but in reality the situation is much more complicated. Guests can also take custody of the animal: partially pay for feeding and care, and receive souvenirs in return.
Elephants cannot damage the "bubbles", and inside the dome they are not inferior in comfort to luxury hotels. Each of the bubbles is on a small wooden platform.
This is a unique opportunity for nature lovers, they can feel like a part of it.